If there's one thing I've learned to be true is that you should take care of yourself first because if you don't, you won't be any good helping others. I think though that when this is extended to the issue of gifts-to-oneself, I have to admit that 2017 was pretty extravagant. So take me off your Christmas lists because I have that covered!
The new MacBook Pro with touch bar
I thought it was going to be lighter than my previous late 2014 MacBook Pro, but the weight difference is so incremental, that it's nothing. Clackier keys. Visibly better resolution which is a miracle that I can still notice it even with my fucked-up eyesight. Still a great, hassle-free machine even if the current iOS has baffling, unnecessary features. What I mourn though is the disappearance of the lighted Apple logo, and I didn't even know that until I had bought it.
Apple Watch Series 2
Never really thought of upgrading until one day, the back-plate of my series one just popped off. Apple replaced it with what seemed like a new one, but at that point, it felt like I was over it. Time for a new one. While I understand the motivation for Apple doling out the features in annoying increments, it's never to a degree where I think it's a rip-off. At least not yet. Everyone else has had a wearable before Apple brought out theirs but make an assessment comparison and it's shocking that others (who grumble and accuse Apple of being glorified copy-cats) haven't caught on Cupertino's strategy- make it way better-looking than the competition. Everyone nearly has the same features and functionalities to play with anyway, so what's the icing on that? Samsung Gear which one of our office IT guys one proudly showed me, looks like one of those shiny clever fakes you see at a Thailand shopping mall; rough-edged metal, 2nd rate leather straps. Disgusting.
Use it for what it's intended for
I promised myself (and my doctor) to up the ante on improving my cardiovascular fitness. Apparently, 2km walks are not enough. When an effective health and fitness regime is all about getting the numbers right, you need something to track it with some degree of accuracy. And that's where the watch comes in- a part of its ubiquitousness is certainly annoying (like the email notifications which admittedly you want to turn off but loathe to), but it's also the factor why you're kept committed to your fitness goals. Without its consistent presence, you will forget. You will park your ass on the bed to eat and watch stupid Youtube. You will groan and procrastinate. You will possibly die- no kidding.
The iPhone X
I've been an iPhone user since the 3GS, skipped a few (4, 5), did Android for less than a year, and been pretty much clued into what's happening. Baffled by the iPhone 8- anyone who's been using iPhones for a long time would know that Apple passing it off as a new variant is bullshit- but hey, there are those who are buying into iPhones for the 1st time who would be fine with it. The only disappointment is the camera and it's only because it's my fault for having un-informed, ignorant expectations (New Years Resolution: study up on photography). Other than that, it succeeds because after using it for just a day, you're utterly convinced by what it can do and not because Apple said so.
10.5 inch iPad Pro
I've hemmed and hawed about this since the first iPad Pro came out because the truth is this- tablets never really age. They've fallen into that category of gadgets that are good for something you hardly need advancements for like reading and plain internet browsing. I've had the 2nd generation, Retina-display iPad for years far longer than my iPhones and it was perfectly fine. But this one dangled the creative carrot in front of me and it's a trap (the verdict is still out on this one) I've fallen for time and time again, albeit willingly.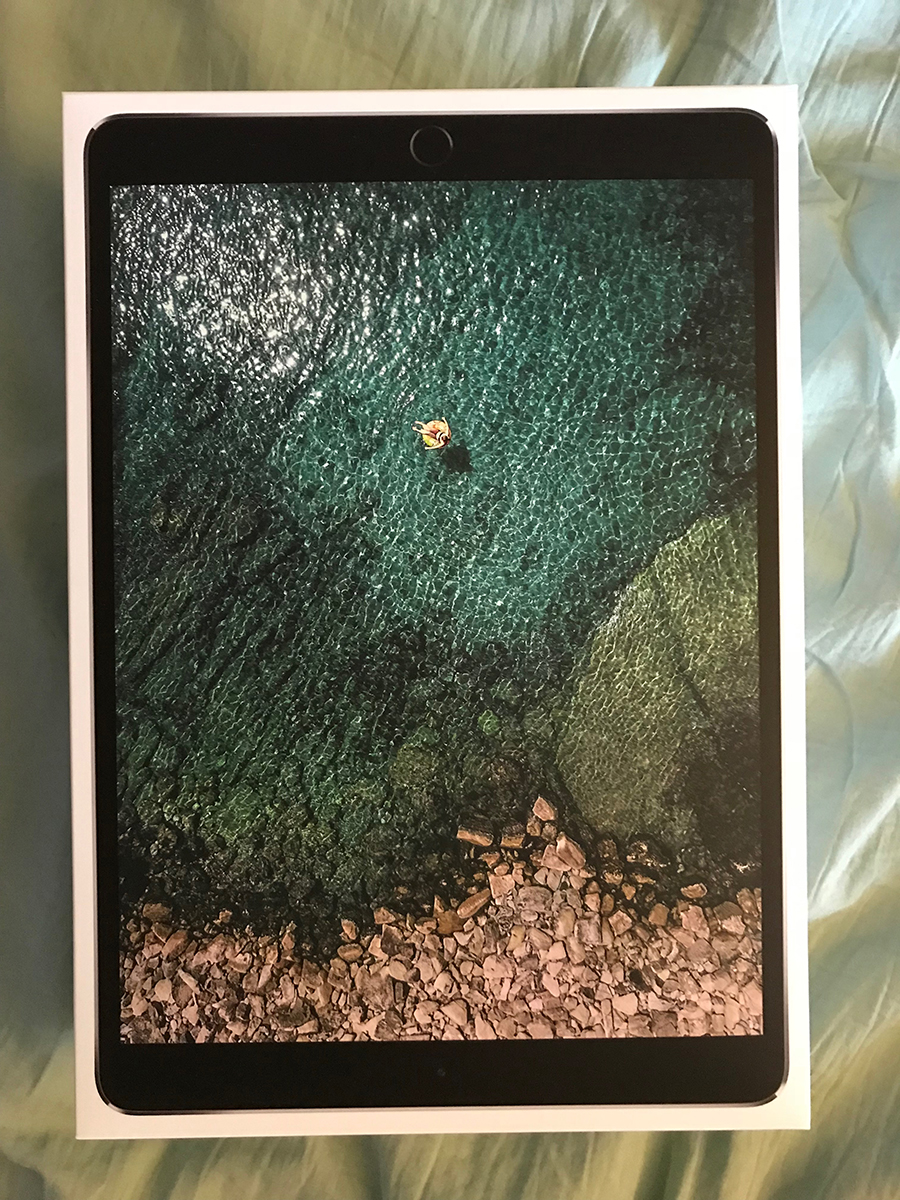 It's brilliant
Apple keeps most of its promises and this is why you're hooked because just when you thought you have seen everything you realise that you haven't. But woe to those who buy it off the bat; first generation versions are always never perfect when the next, better one is just 12 months away (except for the iPhone X in my opinion). This size at 10.5 like the iPhone X's much smaller over-all specs is the absolute sweet spot. And the Apple pencil- in spite a weird way to charge it- it is what Apple claims it to be and I even use it for non-drawing purposes like navigating the iPad and turning pages when reading. Why would I want my smudgy fingers to ruin the gloss of that gorgeous screen?
Starting over
I know that the genetic gifts are strong (because how else would I be currently earning a living as a graphic design person when I never studied it formally??) but I also feel that one should also be informed; to learn contexts, to practice. Practice, practice, practice. To immerse yourself until you find your voice, your groove, when one day, a simply drawn line becomes identifiably you. You'll probably never get there but no one knows that. You don't know that. The one truth that I continue to struggle to hold onto every single day is that you will never even get to answer that question if you don't start. And that's the worst fate- to have had a life where you didn't bother to try.